I know it has been some time since you last heard from me, but thankfully I'm not dead, just busy.
The past two weeks have been nonstop fun/ work.  We have finally started our first group of classes.  The program I'm in has two different types of classes; Reunidas and Complutense.  The difference is that the Reunidas classes are classes offered to international students only.  The Complutense classes are actually through the university, think of these as signing up for class only I'm at a foreign university.  I have to take 3 Reunidas and 2 complutense courses.  I start my Complutense classes on Monday and those I'm sure will be much more difficult.
For the most part classes have been the same.  The exception would be that there is way less homework and much more emphasize on the midterms, finals and final papers.  Yeah for procrastinators!
I have finally left my homestay with my Senora and have moved into my apartment across town.  Leaving was a little awkward, but I bought them some chocolate in thanks and it went well.  She wanted me to call if I had any questions or wanted to come over for dinner or a meal every once and a while; oh and meet my parents when they come.
My roommates include Cristina from Austria, Sofia from Germany, and Tomas from Poland.  They all speak German for those geographically challenged and they learned English in school.  More importantly they all speak Spanish as well.
Cristina and I went to the El Rastro on Sunday to get some things for our significant others.  It was fun getting to know someone new.  My landlord Antonio is coming over tonight to cook a Spanish tortilla or something.  I'm sure it'll be something to write home about.
This past Wednesday we went to the Spain vs. Colombia game and it was a blast! The tickets were 35 euros and we got front row to the field.  The final score was 1-0 and Spain scored it in our corner, I took a screen shot of news coverage, the red arrow shows where we were sitting!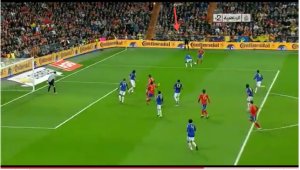 Click here for the entire youtube clip
The fútbol game was crazy fun.  For all you Harry Potter fans I've never felt closer to experiencing the Quidditch World Cup. 🙂  Also I do have to admit that the Spanish team was not the one from the World Cup, but still had some good players.  In other words, it wasn't that important of a game.
I think that's all for now, I'll take pictures of my piso and post them tomorrow or later this week!